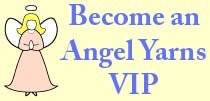 What's New - To August 05
Sale:
Jaeger Celeste - 40% OFF
Jaeger Mohair Art - 40% OFF
Surina Needles:
Surina Knitting Needles - Hand turned decorative needles, lovely
Surina Crochet Hooks - Hand turned decorative crochet hooks
Debbie Bliss
Alpaca Silk DK - A DK version of Debbie's luxuriously soft Alpaca Silk
Cashmerino Chunky - Finally, a chunky addition to the cashmerino range!
Cashmerino Astrakhan - Wonderful new boucle effect yarn from Debbie's autumn range
Cotton Angora - A popular super-soft cotton supported by a great pattern book
Artesano Alpaca:
Jean Moss Bolero - Beautiful Salsa Bolero kit
Jean Moss Scarf - Absolutely lovely pattern from one of the greats
Lucy Neatby:
Lucy Neatby Hand Painted Sock Yarns - Just lovely!
Wendy:
Melody - Hot new summer fashion ribbon yarn from Wendy
Chic - Gorgeous and luxurious version of the extremely popular eyelash yarns
Frizzante - Sensationally soft feel fashion yarn - eight lovely colours including natural fur shades
Clover:
Clover Bamboo Crochet Hooks - Finest there are - Also known as Takumi
RYC Classic Collection:
Black Sheep Bags:
Felted Bag Kits - Great Fun!
South West Trading Company:
Bamboo Feather - One of the softest eyelash yarns we've come across
Bamboo - Yes, Bamboo! You have to feel it and knit with it to see just how lovely this yarn is!
Melody - Wonderful colours in this really funky fashion yarn
Oasis - 100% Soy Silk - One of the most wonderful yarns we have come across
Free knitting patterns:
Scarf - In GGH Intension and Stars Eyelash Yarns
Scarf - In Adriafil Stars
Scarf - In Noro Silk Garden and Adriafil Stars
Artwork Design
Knitting Kits - Lovely knitting kits using Elle yarns
Adriafil Yarn:
Adriafil Decor - A wonderful fluffy but sophisticated look
Adriafil Baroque - This yarn has to be seen and felt to be believed!
Adriafil Ibiza - 100% Egyptian Cotton, great for summer tops
Adriafil Stars - Lovely eyelash yarn from Adriafil. Our current absolute favourite! New Colours
Adriafil Explosion - Multi coloured yarn with hanging slubs of colour
Adriafil Baba - A lovely thick yarn made from 100% pure virgin wool with light and dark effects
Adriafil Happy - Fashionable thick variegated yarn that is very soft and warm
Adriafil Swing - Pure cotton in some really vibrant colourways
Angel:
Summer Capelet - Perfect for a beach throwover
Toddler Poncho Kit - Very pretty little poncho
Klaralund Knitting Kit - Noro Silk Garden Kit
Luxury Sock Kits - 100% Angora sock kits, pure luxury!
Angel Jewellery - Beautiful Hand Made Bracelets
More Angel Jewellery! - Bracelets, brooches, necklaces and more being added every week
New Crochet Bag Kit - Fun crochet bag in Noro Iro
Variegated Angora - Wow, just lovely!
New Poncho Kit - A summer version of our most popular crochet poncho kit, Bluebell
Lanartus:
Spell - Varigated soft fluffy yarn
Gaucho - Tufted variegated soft yarn
Clown - Ultra soft fluffy eyelash yarn with pigtails in bursts of variegated colour
Amalfi - A lovely alternative for the Colinette yarn Giotto
Aloha - THE perfect Sirdar Fizz alternative - low stocks so grab it quickly!
Rio - Crocheting this fashion yarn produces a truly original effect
Sirdar Yarn:
Sirdar Funky Fur - Very 'funky' eyelash yarn
Sirdar Foxy Fur - This seasons most fashionable eyelash yarn
Town and Country Sock Yarn - Kits with everything you need to get going
Elle Yarns:
Elle Plume - Exquisite eyelash yarn that will be an instant favourite
Addi:
Addi Turbo Weave Needles - Certainly a new concept for us!
Addi Turbo 30cm Circulars - Fantastic for sock knitting
Opal Sock Yarn:
Opal Petticoat - Delightful pastel striped socks
Opal Rodeo Cotton - A high cotton content sock yarn
Opal Silk (Seide) - Just sheer luxury for your feet!
Opal Prisma - Eight vivid new colours from Opal
Rebecca:
Knitting Magazine 29 - 43 Rebecca designs exclusively with you in mind